For many men, hair loss can be a difficult and embarrassing thing to deal with. But with the right solutions in hand, it doesn't have to be.
In this article, we are going to take an in-depth look at the top four hair loss solutions for men that could help them thin out and win back confidence. We will cover the science behind each solution as well as how they work on different types of male hair loss.
So if youre looking for answers about regaining control over your balding head, then read on!
Understanding Hair Loss In Men
As men age, hair loss can become an increasingly common problem. But understanding why it happens and what treatments are available is the first step to finding a solution that works for you.
Hair loss in men can be caused by genetics, hormones or health conditions such as alopecia. While some causes may not be preventable, there are ways to slow down its progression or even regrow lost hair with treatments like Minoxidil and Finasteride.
Laser therapy is also becoming increasingly popular among male pattern baldness sufferers because of its ability to stimulate new hair growth without any side effects. Finally, scalp micropigmentation offers a cosmetic approach to restoring the look of fuller hair on balding scalps by creating thousands of tiny pigment impressions in order to give the impression of thicker locks.
By delving deeper into these top four solutions and weighing up their pros and cons against your lifestyle goals, youll soon find out which one will work best for you when it comes to tackling thinning locks.
Identifying the Causes of Hair Loss
Hair loss can often be a source of distress for men, but identifying the root cause is key to finding an effective solution. While genetics and age are among the most common causes of hair loss in men, its not always clear what has caused the problem.
In some cases, factors such as underlying medical conditions or lifestyle habits may contribute to thinning hair. Recognizing these triggers is the first step towards reclaiming your full head of hair.
Hormonal imbalances, stress levels, nutritional deficiencies or even certain medications can all play a role in male pattern baldness and other forms of alopecia. Hair specialists are well-equipped with the latest treatments and techniques to help you diagnose any underlying causes that could be contributing to your hair loss so that you can begin taking steps towards achieving thicker locks again!
Evaluating Treatment Options for Male Pattern Baldness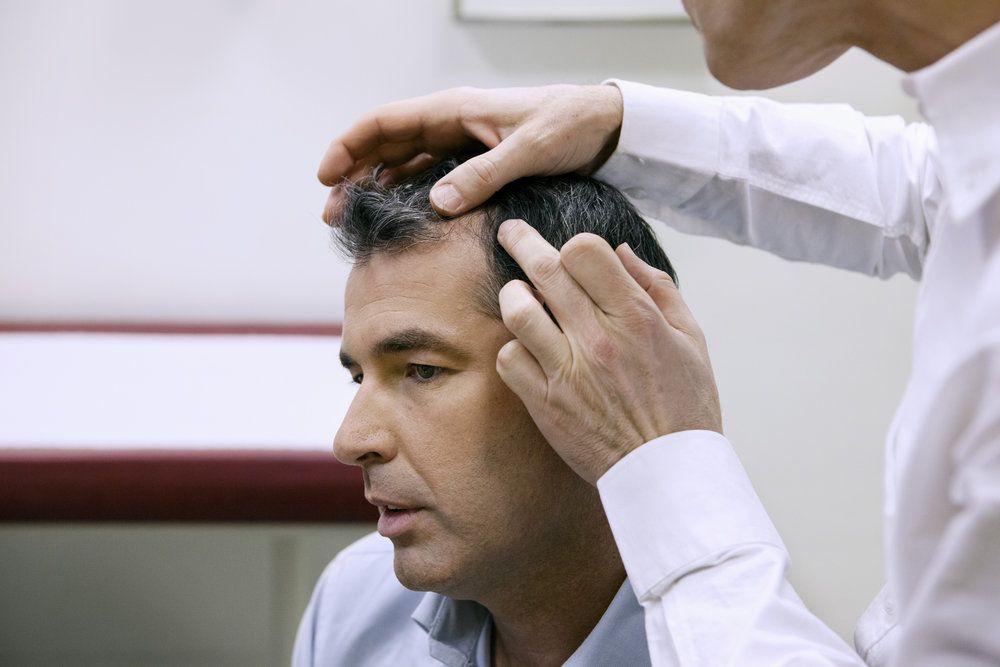 When considering the best treatments for male pattern baldness, its important to thoroughly evaluate all of your options. In this article, well take a look at the top four hair loss solutions available today and discuss their pros and cons.
Well start with medications such as finasteride and minoxidil that have been proven to be effective in preventing further hair loss. Then well examine laser therapy devices which use low-level light energy to stimulate new hair growth.
Finally, we will explore more invasive options like follicle transplantation surgery or scalp reduction surgeries that can provide permanent results but come with higher risks than other methods. With so many different treatment options out there, you should take your time researching each one before deciding on the right solution for you.
Conclusion
Hair loss is a problem that affects many men, but the good news is there are solutions available. The Thinning to Winning: Unveiling the Top 4 Hair Loss Solutions for Men article has outlined some of the most effective options out there, which include medical hair restoration surgery, Rogaine (minoxidil), Propecia (finasteride) and laser light therapy. Each of these treatments carries its own individual advantages and drawbacks depending on your specific situation.
With careful consideration and research into each option, you can find the best solution for your unique needs in order to successfully combat male pattern baldness.