For many of us, our hair can be a powerful source of confidence. Whether you're struggling with thinning hair or just looking for a way to switch up your look, hair extensions offer an easy and affordable solution.
From clip-in pieces to full weaves, these products can add length, volume, and texture in minutes. But perhaps most importantly, they can also give you the boost of self-image that comes from feeling beautiful inside and out.
In this article, we'll explore how hair extensions can help transform your self-image – from tips on choosing the right product for you to the emotional benefits of wearing them. So read on to discover why investing in a few extra inches could make all the difference in your life!
Uncovering the Benefits of Hair Extensions for Your Confidence
Hair extensions can be a great way to boost your confidence and self-image. Whether you are looking for thicker, longer, or just plain different hair, extensions allow you to transform your look without having to wait for natural growth.
From adding volume or length, giving an overall fuller appearance, and creating elaborate updos and braids at weddings or any other special occasion – the opportunities that come with hair extensions are endless! Using high-quality human hair ensures not only natural movement but also unmatched comfort as well as durability. This allows people of all ages to feel confident in their new look and enjoy its results over time.
Plus, it's easy to take care of them; just treat them like you would with regular hair – wash them regularly using gentle products specifically created for extensions, and brush through gently now and then while avoiding heat styling tools when possible. With proper maintenance, they will last up to three months so you can enjoy your style transformation without worrying about damaging your tresses!
How to Achieve a Positive Transformation with Hair Extensions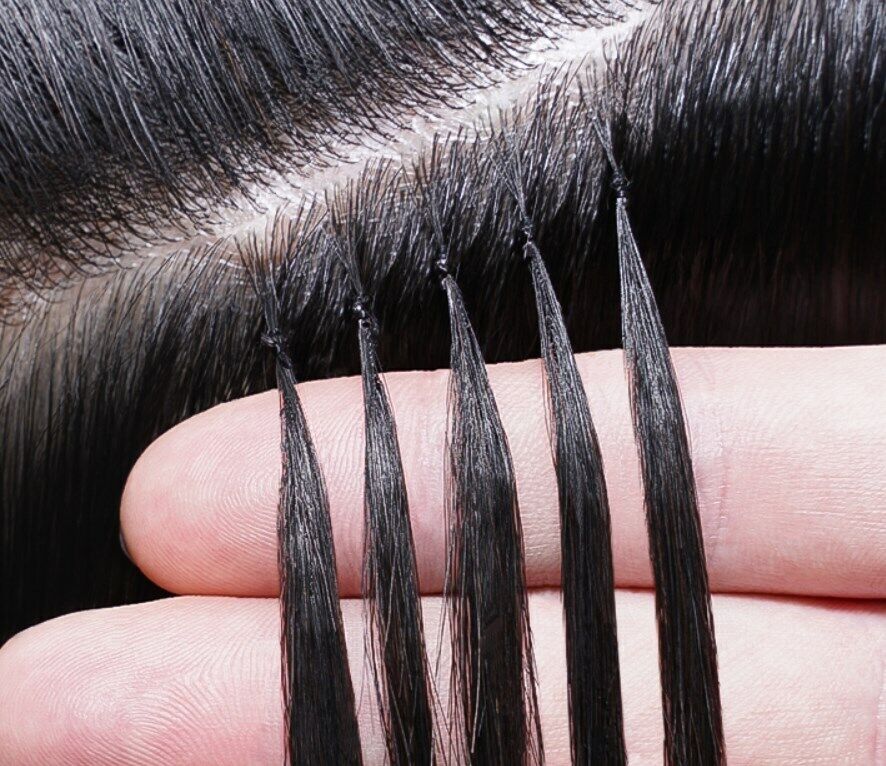 Hair extensions are an increasingly popular way to improve your self-image and achieve a positive transformation. Whether youre looking for volume, length, or just some extra pizzazz in your locks, hair extensions can be the perfect solution.
With so many options available today, it's important to know how to use them correctly to get the most out of your purchase. Here are some tips on how to achieve a successful transformation with hair extensions: 1) Choose the right type of extension based on your individual needs – Hair extensions come in all shapes and sizes so make sure you select ones that work best for you.
Consider whether clip-ins or permanent methods suit you better depending on how often you plan on wearing them and what kind of look you're trying to create. 2) Invest in high-quality pieces – Quality is key when it comes to buying hair extensions as cheaper varieties may not last long and could damage your natural strands if they aren't properly cared for.
Always opt for reputable brands that have been tried and tested by other customers who have had success with their products before investing in any new purchases. 3) Learn proper care techniques – Despite having higher quality materials, if not properly taken care of over time even good extensions will start showing signs of wear such as dryness or tangles due to everyday activities like brushing and styling.
Familiarizing yourself with recommended maintenance routines such as using sulfate-free shampoos/conditioners, regularly trimming split ends, etc will ensure that the life span of each piece is extended significantly. 4) Experiment! Don't be afraid to try different looks from time to time; after all, this is one advantage that comes along with wearing synthetic pieces over natural ones which require months' worth of regrowth until another style can be achieved! So go ahead, switch up those hues every once in a while, add layers .
. find what works best for both your lifestyle & personality!
Tips for Choosing and Applying the Right Hair Extension Style for You
Hair extensions can be a great way to boost your self-image and give you the confidence to take on the world. However, it's important to make sure that you choose and apply the right hair extension style for you to get the most out of them.
Here are some tips for selecting and applying hair extensions that will help ensure that they look their best: 1. Consider Your Hair Type – Different types of hair require different kinds of extensions.
Make sure you know what kind of hair type you have before investing in any kind of extension so that they look natural with your existing locks. 2.
Match Colors – When choosing an extension color, make sure it matches as closely as possible with your natural color or highlights if desired. Choosing an incorrect shade can lead to a very noticeable mismatch which will detract from the overall effect instead of enhancing it like intended! 3.
Be Careful With Glue – If using glue-in extensions, be careful not to use too much adhesive at once as this could damage both your scalp and existing strands by pulling on them when removing after the application has been completed successfully! 4. Go Professional – Get professional help if needed; many salons offer services specifically related to installing hair extensions correctly so taking advantage may save time, money, and headaches down the line if done improperly without guidance first! 5.
Take Care Of Them Regularly – Like all hairstyles, regular maintenance is key for keeping up appearances with any type or length of extension added onto existing locks; shampooing properly (without tugging) at least twice per week should do the trick here but ask stylist advice about specific products/methods beforehand just in case more specialized care is necessary depending on particular situation/setup involved here too!
Understanding the Potential Impact of Wearing Hair Extensions on Your Self-Esteem
When you choose to wear hair extensions, the potential effects on your self-esteem can be profound. Not only can they add length and volume to your natural hair, but wearing them also has a psychological effect that contributes to how you feel about yourself.
Hair extensions have been known to provide an instant confidence boost for many women – and even men! The most obvious physical effect of wearing hair extensions is an improvement in one's appearance. This is especially true if you are someone who has thinning or damaged hair due to genetics or lifestyle choices like heat styling or chemical treatments.
Extensions give the wearer a fuller head of hair – something that many people strive for – which can lead to increased self-confidence when going out in public. But there's more than just a physical transformation associated with wearing extensions; it's also related to what they symbolize: freedom, power, control over one's own identity, and beauty definition.
For some women who have experienced trauma such as alopecia or cancer treatment leading to baldness, having the option of using human-hair weaves allows them to reclaim their femininity and sense of empowerment by playing around with different styles without worrying about damaging their scalp while doing so. In addition, choosing how long you want your new locks (short vs long) gives wearers flexibility when it comes to expressing themselves through their hairstyle choices while also feeling secure knowing that no matter what happens during the day – whether it's windy weather conditions or getting caught up in activities – their look will remain intact thanks to the sturdy hold provided by quality extension products available on market today.
Conclusion
Hair Extensions for Special Occasions are a great way to give yourself an instant boost of confidence. Not only do they make you look and feel beautiful, but they can also transform your self-image in amazing ways.
Whether it's a special occasion or just for everyday wear, hair extensions will leave you feeling more confident and glamorous than ever before. With the right care, these extensions can last a long time and help you continue to enjoy their transformative effects on your self-image for years to come!